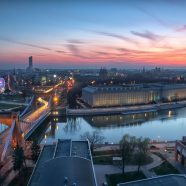 Develop your career in the economically booming region of Lower Silesia.
We operate in the rapidly developing region of Poland called Lower Silesia, where we cooperate with employers from the regional capital city of Wrocław as well as companies from other major cities, including Legnica, Wałbrzych and Jelenia Góra. Part of our activities is also conducted in the city of Opole – the capital of the Opole Voivodeship (region) in southern Poland.
The region is famous due to a high number of foreign enterprises operating in the area. The local capital of Wrocław has already attracted world-renowned companies, such as IBM, HP, Nokia, LG and Amazon, to name but a few. Both professional people and unskilled personnel are continuously in demand. The suburban and rural areas abound in agricultural land, greenhouses and local businesses requiring substantial manpower. Wrocław is located nearby two highway roads, A4 and A8, nearby which logistic centres are situated employing warehouse staff.
Wrocław and other cities in the region offer vastly diverse career opportunities. The rapidly developing city requires construction workers and engineers, while the recreational character of its central part needs people to work in the fields of gastronomy, including chefs and waiters/waitresses and entertainment. We actively search for new occupational opportunities for Bangladeshi citizens registered in our company's database.
If you have any questions regarding employment in south-western Poland, do not hesitate to contact us.